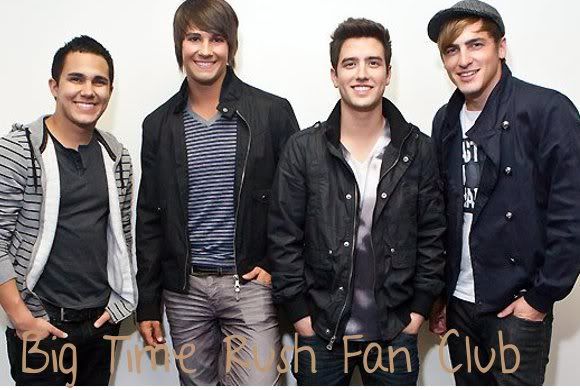 Hello, and welcome to the official Big Time Rush Fan Club! This is where Rushers from CPI can join and talk about the boys (:
~What is Big Time Rush?~
Big Time Rush is a boy band made up of 4 boys named Carlos Pena, Kendall Schmidt, Logan Henderson, and James Maslow. They have their own show on Nickelodeon, and they just made "Big Time Movie."
Form for the club:
Username:
Nickname:
Why do you love the boys so much?:
Favorite boy:
Favorite song from BTR:
Anything else?
Members list:
Destiny - Owner of the club - Ultimate Rusher
Kylie - Super Rusher
Pony - Rusher
Ranks:
Rusher: Just joined the club
Super Rusher: Posted 10 facts about the band or the boys.
Ultimate Rusher: Posted 3 pictures of each boy OR 5 pictures of the band.
Facts:
1. Logan was a gymnast before he joined BTR
2. Carlos has a black belt in Tae Kwan Do.
3. Kendall's favorite ice cream is Chocolate Chip Cookie Dough.
4. Logan can hit high notes perfectly in a song.
5. James' celebrity crush is Emma Watson.
6. Carlos prefers Harry Potter over Twilight.
7. Kendall's first crush was in kindergarten.
8. It was confirmed in a video that James is Jewish.
9. Logan says he would ask a girl to prom in a hot air balloon with a banner that says "Will you go to prom with me?"
10. When Carlos received the call telling him he was going to star on Big Time Rush, Carlos was in a movie theater watching Wall-E with his little brother.
11. Carlos is the oldest, hes 22, 23 in August, and Kendall is the youngest, and hes 21.
12. James' first showing in Nickelodeon was on iCarly. He played Shane, the boy who Carly and Sam fought over.
13. When Logan was 17, an acting coach told him he should give up on becoming an actor.
14. What Kendall looks for in a girl is confidence.
15. James has a scar on his right arm because he was injured during a hockey stunt filming the first episode.
16. In high school, Carlos was a cheerleader.
17. Logan's favorite food is Japanese.
18. Kendall's favorite cereal is Lucky Charms.
19. Carlos' first crush was a girl name Mandy at camp at the age of 13 years old.
20. Logan used to sing in the car with Demi Lovato back in Texas when they were younger.
Hope you have fun here at the fan club! c:
Edited by DearDestiny775, 15 March 2012 - 10:45 AM.